United States Secretary of State, Antony Blinken, has commended President Bola Tinubu's leadership of the Economic Community of West African States (ECOWAS) to restore constitutional order in Niger Republic.
The US top official said he spoke with the Nigerian President over the phone and discussed "shared efforts" to reinstate President Mohamed Bazoum.
Bazoum, whose election in 2021 was a landmark in the country's troubled history, was toppled on July 26 by members of his presidential guard.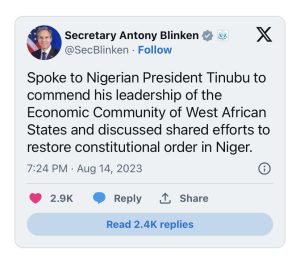 His ouster unleashed a shockwave around West Africa, where Mali and Burkina Faso — likewise battered by a jihadist insurgency — have also suffered military takeovers.
Seeking to stop the cascade, ECOWAS slapped sanctions on Niger and last week approved the deployment of a "standby force to restore constitutional order."
But uncertainties hang over any intervention — from operational feasibility to internal divisions within ECOWAS — and the bloc also says it wants a peaceful outcome.
On July 30, it issued a seven-day ultimatum to restore Bazoum or face the potential use of force, but the deadline expired without action.
Mixed signals have emerged from the regime as the crisis nears the end of its third week.
At the weekend, the coup leaders said they were open to a diplomatic push after their chief, General Abdourahamane Tiani, met with Nigerian religious mediators.
Those talks came after a scheduled meeting of ECOWAS military chiefs in Ghana was postponed for "technical reasons."
But on Sunday night, Niger's rulers declared they had gathered sufficient evidence to prosecute Bazoum for "high treason and undermining internal and external security."
The threat was angrily condemned by ECOWAS.
In a statement, the bloc said it had learned of the threats "with stupefaction."
"It represents yet another form of provocation and contradicts the (regime's) reported willingness… to restore constitutional order through peaceful means."
Bazoum, 63, and his family have been held at the president's official residence since the coup, with international concern mounting over his conditions in detention.
On Monday, the military-appointed prime minister, Ali Mahaman Lamine Zeine, a civilian, declared Niger would thwart ECOWAS's sanctions threat.
"We think that even though it is an unfair challenge that has been imposed on us, we should be able to overcome it. And we will overcome it," he told German broadcaster Deutsche Welle.
The bloc has severed financial transactions and electricity supplies and closed borders with landlocked Niger, blocking much-needed imports to one of the world's poorest countries.